| | | |
| --- | --- | --- |
| | | |
F1000--Mains Audio Power Purifier Filter
F1000 selects the unique patent filter method, broke through the traditional LC filter element, not can only eliminate in effectively the electrical network the disturbance and the noise and causes it to fall to lowly, moreover may cause the Hi-Fi, AV sound system's music signaling to be quicker, music low frequency transient response is better, in AV, in the Hi-Fi music, has listens to the feeling frequency sound width, the sound field level to be good, the detail performance is rich, the sound dyes the low status characteristic; In regards, listens to the system to be possible to strengthen reads the small dish analysis ability, causes in the image the three-dimensional sense of depth to be better, may to reduce the color to dye (enhances excitation purity), elimination background noise hemp (to enhance clarity) the aspect to be able to obtain the good effect, thus enables you to obtain the perfect seeing and hearing effect!
Features&Specification: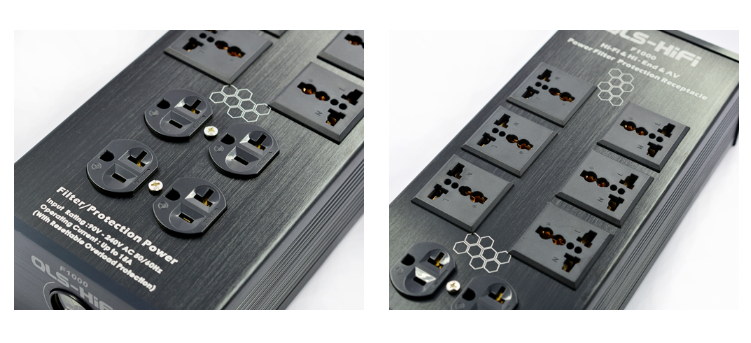 Sockets: 6 Universal + 4 US sockets.
Uses the high quality high-purity copper wire, reduces the transmission loss, enhances the energy the supplies speed.
Professional sockets and thick copper spring plates for tight connection and less loss.
Included local detachable power cable.
Heavy duty aluminum alloy chassis.
Protection for thunder shock and overload.
Input Rating: AC90~240V 50/60Hz.
Maximum Current: 15A.
Dimensions approx. 350 x 131 x 78(H)mm .
Weight: Approximately 2.2kg.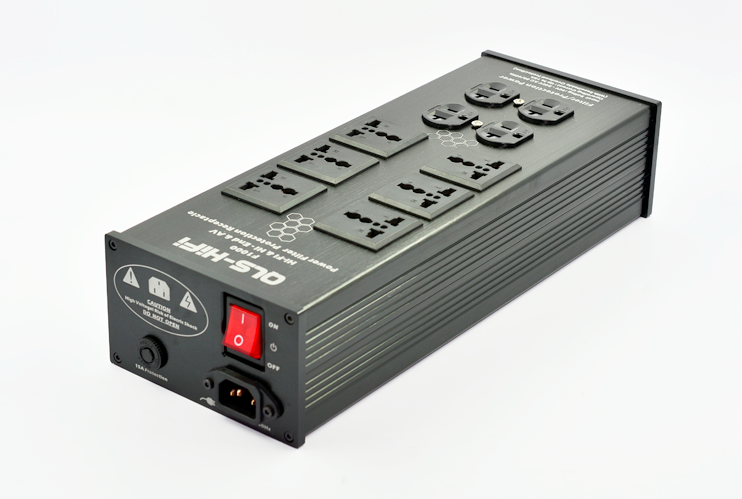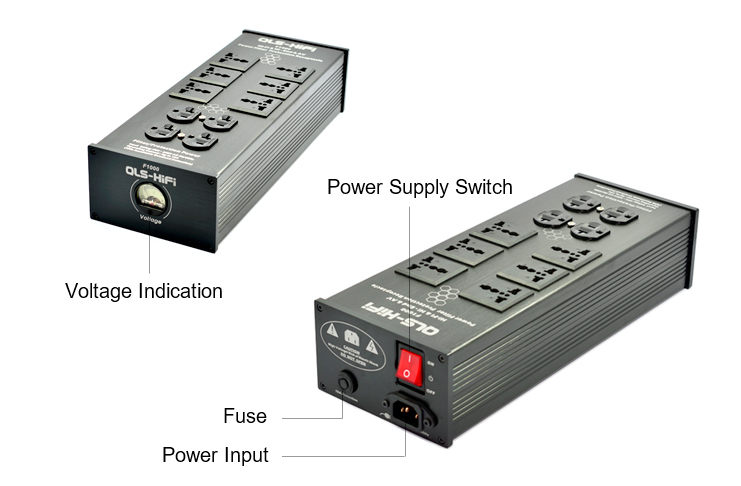 The following items are included with your Order:
1. F1000 Mains Audio Power Purifier Filter x 1.
2. Power cable x 1.
3. User Guide x 1.
At the time of purchase, please indicate the following:
Your couftry's voltagd specs.

Payment methods 1: Direct remittance to PAYPAL, Our paypal account: cxqmcu@cxqmcu.com
Tip:
We will send good by DHL / TNT / EMS Expres, and we will declare the sending for gift with a low value(For example: USD $80.00), to reduction reciever side to pay tax or try to avoid reciever side to pay tax.
If the list have not include your country, Please contact us for get your shipping by E-mail.
E-mail: cxqmcu@cxqmcu.com / clark_chen@aliyun.com / 315392961@qq.com

Payment methods 2: You can go directly to our EBAY purchased online stores: http://www.ebay.com/itm/300671438172

Payment methods 3:
You alse can pay to our bank Accout:
Our Bank of China Account:
A/C NO: 4766938-0188-129144-0 IN A/C WITH: TANG YAN
BENE`S BANK: BANK OF CHINA SHENZHEN BEI FANG BUILDING SUB-BRANCH
SWIFT CODE: BKCHCNBJ45A ADD: 1/F,BEI FANG BUILDING,SHEN NAN ZHONG ROAD,SHENZHEN,CHINA
POST CODE: 518033
Tip: The beneficiary name should be TANG YAN, Not is QLS Electronics.
After payment,please E-mail us the your recipient name, recipient address, zip Code, contact phone number.
Our Email address: cxqmcu@cxqmcu.com clark_chen@aliyun.com 315392961@qq.com



Payment Method 4: Wester Union
You can select the nearest agency for westernunion, you only need my name, city and country to send money. They accept cash and online payment. After you send it, the workers of westernunion will give you a control number, i need this control number and your full name to draw money.

With more than 150 years of experience, Western Union is a global leader in money transfer services. It helps consumers and businesses send money quickly and reliably, only take 5 minutes to arrive. you can visit www.westernunion.com for more details.Also it is easy to find a close agent from this link: http://www.westernunion.com/info/selectCountry.asp and please click Find An Agent .
Here is my westernunion info:
Firstname: Yan
Familyname: Tang
Address: A4-1-3B,Qianlong Xinmao Garden,Longhua,ShenZhen,Guangdong,China
City: ShenZhen
State: Guangdong
Country: China

Note:
After payment,please e-mail us The Sender's First Name, Last Name, Total Amount, Money Control Transfer Number and address on the payment sheet, so that we can track and get the payment.
Also Please tell to us the your recipient name, recipient address, zip Code, contact phone number.
Our Email address: cxqmcu@cxqmcu.com clark_chen@aliyun.com 315392961@qq.com
---
SHEN ZHEN QLS ELECTRONIC TECHNOLOGY CO.,LTD.(QLS-HiFi)
ADD:Room A1502,NiuLanQian Building,MinZhi Road,LongHua Town,ShenZhen,GuangDong,China
Postalcode:518131 TEL:+86-0755-28187975 FAX:+86-0755-28187976
E-Mail:cxqmcu@cxqmcu.com